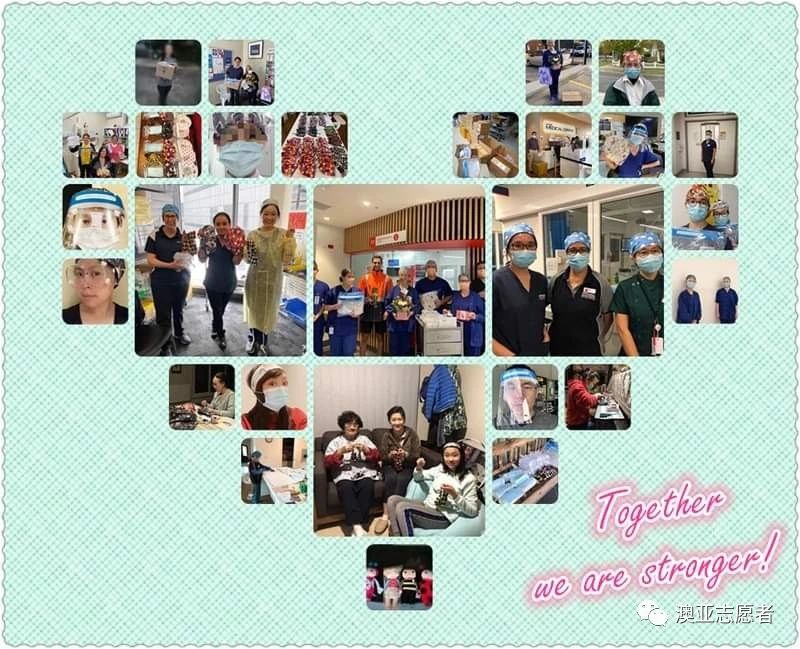 Since the COVID-19 pandemic broke out in Australia in March 2020, Victorian healthcare workers continued to face shortages of PPE as coronavirus cases ramped up.
Immediately after hearing of the news of PPE shortage, AAV started to work on arrangement of money donation and supply of goods. After three days hard work of seeking medical suppliers globally we targeted at a leading medical supplies manufacturer. 
I also thank some volunteers in Melbourne for donating funds and time to sew nurse hats by themselves. These nurse caps worn by Chinese nurses were later envied and even jealous of local nurses. The exquisitely hand-made nurse hats were donated to 6 public hospitals, 4 private hospitals and 7 clinics together with other PPEs, benefiting more than 120 medical staff in total.
Thanks to the Melbourne Helping Hands Network, the Melbourne Helping Hands Network, who worked with us. They also organized flowers and love gift packages several times during the epidemic, accompanied by the children's love paintings for medical care, and sent them to the hands of doctors in various hospitals, expressing their gratitude. And love.
At same time AAV raised approx. $7,300 donations in only three days to purchase PPEs, which included medical/surgical masks, face shields, disinfectants, etc. More than 120 frontline doctors, nurses from Epworth, Cabrini, Monash Health, Eastern Health and Austin Health had been directly benefitted by the PPE donations from AAV.
In addition, AAV also made money donations of each $1,000 to The Alfred, Northern Health, St. Vincent Hospital to support their frontline healthcare workers and purchase of medical devices.