Asian Australian Volunteers Inc. (AAV) aims to unite Asian Australian volunteers who are willing to contribute to the society, spread love, and help the community.
Priority Response to Multicultural Communities during COVID-19 (hereinafter referred to as the COVID Response Project) has received strong support from the Victorian government and will be committed to providing multi-faceted assistance to the vulnerable or disadvantaged groups in Victoria who are affected by the epidemic.
If you also have such disadvantaged groups who need help or are interested in becoming a volunteer to provide support to the community, please contact us.
Email: AsianAustralianVolunteers@gmail.com
WeChat: AAV_02
Project Overview:
-On March 24, 2021, submit the project application;
-On June 3, 2021, the project was approved after multiple rounds of inquiries;
-On June 5, 2021, the project team was established and the first project meeting was held;
-On June 15, 2021, a supervision team was selected from registered members, and the project was officially launched…
---
Project management structure:

The COVID Response Project Victorian Community Epidemic Support Project focuses on basic living needs. The budget for this special fund is as follows: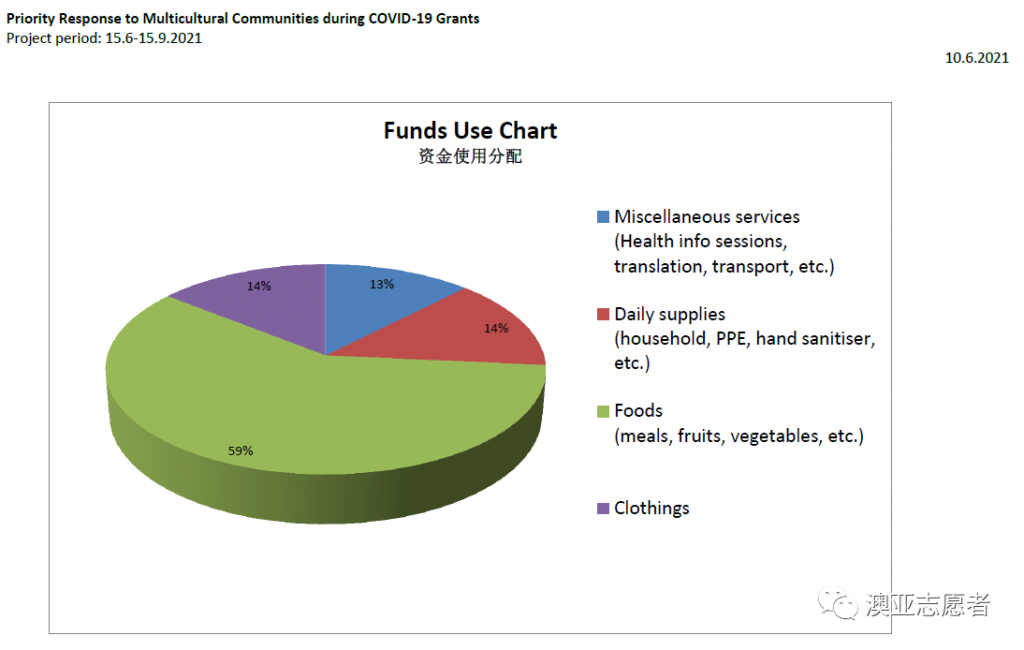 ---
The negative impact of the epidemic on the community has lasted for more than a year. Before the official launch of the project, we were already doing our best to provide some emergency help to the community.
Current status of early-stage assistance of the project:
· June 11:
-A single mother in the Western District raised two young children alone. She was unable to go out because of the care of the sick child. Volunteers drove more than 40 kilometers to deliver fruits and vegetables to the door, which relieved the urgent need;
· June 12:
-Volunteers went to RMH Hospital to deliver meals to Mr. F, a Chinese who was severely injured by 4 black men in a serious community safety incident a few days ago;
-AAV contacted a nearby fruit and vegetable shop to regularly supply fruits and vegetables to a family in the southeast district that suffered major changes during the epidemic;
· June 13:
-Received a friend who came to Australia shortly after coming to Australia who caused a concussion and a comminuted fracture of the right knee knee joint for mental health consultation. Because the injured person is not yet able to walk independently, lives alone without relatives in Australia to take care of and loses income from work In response to the epidemic, AAV formed a temporary assistance group to apply for government funding, provide legal advice on claims, psychological assistance, etc., and will arrange for volunteers to come to visit with food and clothes as soon as possible.
· June 14:
-Provide emergency food and Jackets for winter protection to Mr. S, a family of four international students from Pakistan who do not have scholarships and other income. They are also the first non-Chinese groups to benefit from this project.